According to the analysis platform SimilarWeb, ChatGPT recorded a decrease in monthly visits for the first time since November 2022.
Since the end of November 2022, ChatGPT recorded an extreme growth from zero to more than 1.5 billion visits in March 2023. In January 2023, the platform is estimated to have reached 100 million active users, making it one of the fastest growing digital products ever .
However, growth has slowed significantly since March 2023. From May to June, it declined by about ten percent for the first time, according to SimilarWeb. The number of unique users fell by about six percent. Time spent also fell slightly, by 8.5 percent already in May; the figure for June is not yet available.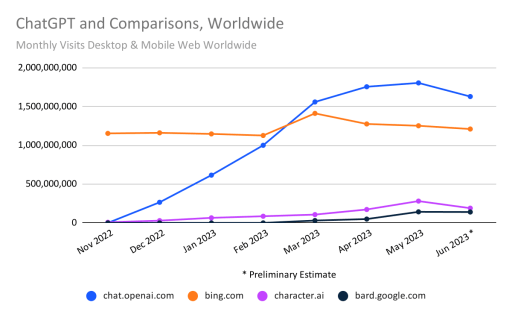 Declining traffic does not necessarily mean fewer users or less revenue for OpenAI. What matters is the conversion rate, ie, how many users interact with the service on a daily basis and become paying customers.
In addition, the number of OpenAI's B2B customers accessing the models via the API is likely to increase. Visits to the platform.openai.com developer site increased by 3.1 percent from May to June, according to SimilarWeb.
Bing.com has benefited little from the hype surrounding Bing Chat and OpenAI. Visits have declined since the hype peaked in February and March 2023, but are still slightly above November 2022 levels, before the launch of ChatGPT and the integration of the technology into Microsoft's search engine.
No immediate growth from ChatGPT plugins
The fact that the traffic numbers are now slowing down a bit after the tremendous growth of the last few months, especially with the transition into summer, will probably not worry OpenAI. For such a young product, the traffic is still exorbitantly high.
What is interesting about SimilarWeb's data is that the release of ChatGPT plugins and web browsing in May, the elements that should elevate ChatGPT from the basic function of a text generator to an ecosystem and potential Google killer, and the launch of GPT-4 in March did not result in another major growth.
OpenAI's plugin launch so far has been a bit underwhelming, with a plugin store without a search function and a user interface that offers little guidance on the benefits of the more than 400 plugins. The browsing feature is slow and unreliable; in fact, OpenAI recently disabled it because people were using it to circumvent publishers' paywalls.
Recommendation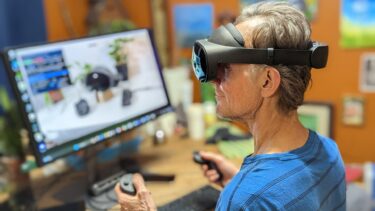 Of course, chatbots, especially with plugins, are still in their infancy. The question is how far and how fast OpenAI can mature, and how the competition will take advantage of OpenAI's breather.